August 7, 2012
| Team | 1 | 2 | 3 | 4 | 5 | 6 | 7 | 8 | 9 | R | H | E |
| --- | --- | --- | --- | --- | --- | --- | --- | --- | --- | --- | --- | --- |
| Reds | 0 | 0 | 0 | 0 | 0 | 0 | 1 | 2 | 0 | 3 | 9 | 0 |
| Brewers | 0 | 0 | 0 | 0 | 5 | 4 | 0 | 1 | - | 6 | 12 | 0 |
W: Gallardo (10-8) L: Arroyo (7-7) S: Axford (18)
This is about the time of year when the baseball dolldrums start to set in for me. As if the back-to-school activities weren't distracting enough, everything in the sport itself is starting to blend together. The sample sizes are so large that even spectacularly good performances and spectacularly bad performances don't really impact things to much.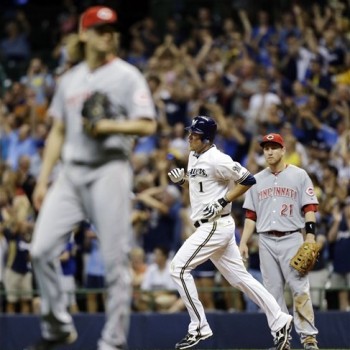 Take, for example. Bronson Arroyo, who started for the Reds last night. He came out of the game looking like Badroyo for sure: 5 runs (earned) on 10 hits in 5.1 innings. But even in this morning's harsh light, his line today (7-7, 4.05 ERA) barely looks any different than it did at this time yesterday (7-6, 3.87 ERA).
I guess my point is that, even though I know, intellectually, that each game has the same significance, at this point in the season, each individual game just doesn't feel as important. I don't know if people are freaking out about the fact that this is the Reds' first losing streak since early July, but speaking for myself, I'm having trouble mustering up any outrage.
Of course, who cares what I think? It's the players who have to keep up their intensity, and I don't think we really saw that so much yesterday. Scott Rolen may have put in the best performance of everyone, having gotten on base 4 times with 2 hits and 2 walks. Or maybe Zack Cozart, with his solo shot in the seventh. Each scored 1 run. Not exactly mind-blowing performances, but the best the Reds had to offer yesterday.
Mr. Intensity himself, Joey Votto, is soon to be back, though. He's on the road trip with the team, but no one's saying whether he'll actually take the field. Maybe having Votto out for an extended stretch will turn out to be just what the Reds needed for victory: having to make up for his absence being a kick in the pants immediately after the All-Star break, then, just as the team is coming down from its adrenaline rush, bringing him back in to actually kick everyone in the pants.
In the meantime, it was still a loss, and it dragged the Reds' record all the way down to 66-43. The series continues tonight at 8:10 p.m. when Johnny Cueto (RHP, 14-5, 2.52 ERA) takes on Mike Fiers (RHP, 5-4, 1.88 ERA).