August 16, 2012
| Team | 1 | 2 | 3 | 4 | 5 | 6 | 7 | 8 | 9 | R | H | E |
| --- | --- | --- | --- | --- | --- | --- | --- | --- | --- | --- | --- | --- |
| Mets | 0 | 0 | 0 | 1 | 0 | 0 | 0 | 0 | 0 | 1 | 4 | 0 |
| Reds | 1 | 0 | 0 | 2 | 0 | 2 | 1 | 0 | - | 6 | 13 | 0 |
W: Leake (5-7) L: Dickey (15-4)
The Reds took down the Mets and 15-game winner R.A. Dickey last night to ensure the win of the series.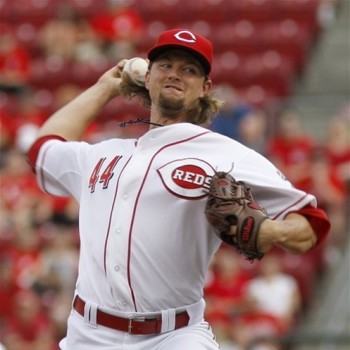 Mike Leake started for the Reds, and before the game it hardly seemed like a fair match-up. But Leake was up to the task and put in a 1-run (earned), 4-hit complete game. The starters have really been rolling lately, which is the main reason the Reds are now, again, owners of a 5-game winning streak.
The offense was in fine form as well. Todd Frazier went 3-for-4 on the night, including a 474′ home run in the fourth inning that was the fourth-longest home run in the majors so far this year. Not that length really matters, but Rookie of the Year, anyone?
Zack Cozart, Jay Bruce, and Scott Rolen each went 2-for-4 and scored a run. Rolen contributed an RBI in the form of a solo-shot immediately prior to Frazier's in the fourth inning. Not bad for a guy who, 5 days ago, couldn't move with the back spasms he was having.
The win brings the Reds' record to 71-46. They lead the NLC by 7.0 games over both the Pirates and Cardinals, who are now tied for second. Tonight they go for the sweep of the Mets. Homer Bailey (RHP, 10-7, 4.08 ERA) tries his hand against Matt Harvey (RHP, 1-3, 3.63 ERA). First pitch at 7:10 p.m.