August 6, 2012
The Reds just left for a roadtrip starting with tonight's game against the Milwaukee Brewers, but there are a couple deals in place for when they get back.
Lower-Level Field Box Discount August 14-16




Reds.com says:
The Reds won five of seven games on the homestand vs. the Padres and Pirates and now you can save $20. That means Lower-Level Field Box tickets (regularly $34) for the upcoming Mets series (August 14-16) are just $14!
so I guess that means they took $4 off the price for each win? Seems like an unusual number, but maybe it was in honor of Brandon Phillips' jersey number, since he's featured prominently on the page where you buy the tickets. Whatever the reasoning, it's a nice deal. Go here to buy tickets.
Jay Bruce Tweet-Up August 16
But the discounted tix aren't your only option for August 16. That same night there will also be a "JAY BRUUUUUUUCE tweetup"
What makes it a "JAY BRUUUUUUUCE tweetup" as opposed to just a "REGUUUUUUULAR tweetup", you ask? Why, Bruce's Twitter handle is on shirt you get with your admissions, of course.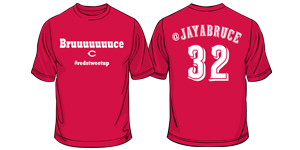 For only $25, the special #RedsTweetUp package includes:
* One Sun/Moon Deck ticket (reg $25)
* An exclusive, limited-edition Reds BRUUUUUUCE TweetUp t-shirt
Just make sure to keep an eyes on the field from time to time. It would be just too ironic for Bruce to hit a tweet-up attendee with a home run ball because they were too busy tweeting to see it coming. Go here to buy tickets.