Last Game
When the Reds rolled into Chicago last night, they brought with them a 4-game losing streak. But the Cubs had a shiny 8-game losing streak. Someone was going home with a broken streak, and this time it was the Cubs.
Mike Leake matched the Cubs' Chris Volstad inning for inning: each put in 6.0 innings of work and allowed 3 runs (earned) on 6 hits and 2 walks. But those were the only runs the Reds' offense could muster, whereas the Cubs managed 2 more against the Reds relievers.
Not a stellar show from the pitching staff, but again I'm left asking: where the heck is the offense? Final score: Reds 3, Cubs 5.
Next Game
The Reds try again to break their now-5-game losing streak this afternoon. Homer Bailey (RHP, 9-7, 3.98 ERA) tries his arm against Justin Germano (RHP, 1-1, 3.38 ERA). Bailey's been struggling lately, and about now I'm wondering whether the Reds can avoid being swept in the 4-game series.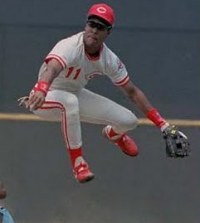 Taking It to 11, and Then Retiring It
The Reds have announced plans to retire number 11, the jersey number of Barry Larkin, who was also inducted into the Baseball Hall of Fame this year. The "11 Days of Larkin" number-retiring celebration begins next week and will include:
Highlights of Larkin's career being featured on FOX Sports Ohio, Reds On Radio Network, and reds.com.
Free admission to the Reds Hall of Fame and Museum to everyone named Barry.
Half-price admission to the Reds Hall of Fame and Museum to anyone wearing a Larkin shirt.
Special Larkin-related displays and merchandise at the Reds Hall of Fame and Museum.
Free Barry Larkin Reds cap to the first 20,000 fans at the game on Saturday, August 18.
Cymber Larkin singing the national anthem at the game on Friday, August 24, plus Barry Larkin addressing fans after the game but before the "Barry Blast" post-game fireworks show.
Block party on the afternoon of August 25, then the retirement ceremony later that day.
Frankly, the list gets kind of long so I didn't include everything. For the whole list, check out the press release on Reds.com.
What to Say to Sound Smart at the Water Cooler
Barry Larkin got his first career hit on August 15, 1986 against Dave Dravecky of the San Diego Padres.