August 30, 2012
| Team | 1 | 2 | 3 | 4 | 5 | 6 | 7 | 8 | 9 | R | H | E |
| --- | --- | --- | --- | --- | --- | --- | --- | --- | --- | --- | --- | --- |
| Reds | 0 | 0 | 0 | 0 | 0 | 0 | 3 | 3 | 0 | 6 | 11 | 0 |
| Diamondbacks | 1 | 0 | 0 | 1 | 0 | 0 | 0 | 0 | 0 | 2 | 6 | 1 |
W: Latos (11-4) L: Corbin (5-6)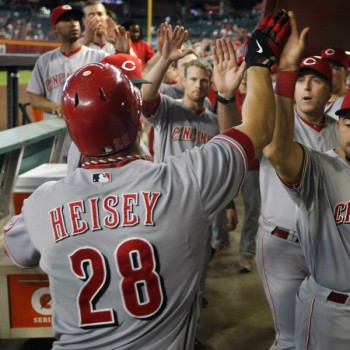 The Reds completed the sweep of the Diamondbacks yesterday afternoon.
Mat Latos pitched a beauty for the Reds. In 7.0 innings of work he allowed 2 runs (earned) on 5 hits and 3 walks. He struck out 7.
J.J. Hoover pitched the eighth inning and struck out 2 of the 3 batters he faced. Not so much as a baserunner: you've gotta love that. Jose Arredondo did allow a baserunner in the ninth inning, but that wasn't nearly enough for the Diamondbacks.
The offense put on a show like we haven't seen in a while. The home run hitters were large and in charge. Chris Heisey hit a 2-run shot in the seventh, followed by a solo shot from Dioner Navarro. In the eighth inning, Brandon Phillips hit a 2-run dinger, followed by Heisey again. Plus, Latos went 2-for-3. I love to see the pitcher helping himself out at the plate.
The win puts the Reds' record at 80-52. They need just one more win to ensure a .500 season. They won't get it today, though: the boys in red are taking the day off. They'll be back tomorrow to play the Astros in Houston.