August 22, 2012
| Team | 1 | 2 | 3 | 4 | 5 | 6 | 7 | 8 | 9 | R | H | E |
| --- | --- | --- | --- | --- | --- | --- | --- | --- | --- | --- | --- | --- |
| Reds | 0 | 0 | 0 | 0 | 0 | 0 | 3 | 1 | 1 | 5 | 11 | 1 |
| Phillies | 1 | 0 | 0 | 0 | 0 | 0 | 2 | 1 | 0 | 4 | 11 | 2 |
W: Broxton (3-3) L: Papelbon (3-5) S: Chapman (30)
The Reds hung in there in a tight game with the Phillies to finally win by one run. It was an exciting game (though, admittedly, much of the "excitement" was contributed by the Reds' bullpen) and especially fun to watch since the Reds came out on top.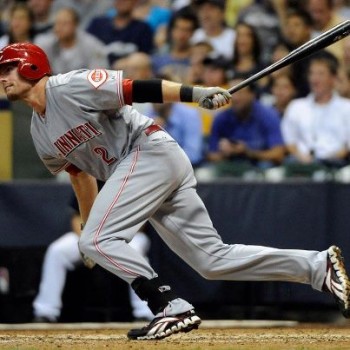 Homer Bailey started for the Reds. Apparently that Bryan Price was right about the mechanical glitch, because Bailey was back in good form after they corrected it. He went 6.1 innings allowing 3 runs (2 earned) on 7 hits and an HBP. He struck out 6. Not bad, especially against the line-up that tagged the Reds for 12 runs yesterday.
Sean Marshall pitched the rest of the seventh. He came in with 2 on and promptly walked a guy. Then gave up a fat double to Jimmy Rollins to score 2 runs. They weren't his runners, but Marshall got the blown save anyway. Fortunately, the Reds came back in the top of the next inning to retake the lead.
Jonathan Broxton pitched the eighth and gave up 1 run on 2 hits and a walk to again get the blown save. But again, fortunately the Reds came back in the top of the next inning to retake the lead.
Aroldis Chapman gave up a hit to start the bottom of the ninth and it looked like this could go on forever. He managed not to allow any runs, though, and got the save.
It was rookie night at the ball park, and Zack Cozart and Todd Frazier shared the "hero of the game" honors.
In the seventh, Scott Rolen led off with a double, followed up by a walk for Frazier. Ryan Hanigan singled in Rolen, and two batters later, Cozart hit a sac fly to bring in Frazier. Drew Stubbs singled in Hanigan to round out the scoring that inning.
But as you know, the Phillies had tied it up again in the eighth. That's when a Frazier solo shot came in so handy to give the Reds back the lead. Same story in the ninth, only it was Cozart at the bat. And this time the Phillies had nothing to answer with and the Reds evened the series at 1 apiece.
The win brings the Reds' record to 75-49. They continue the series tonight in Philly at 7:05 p.m. Bronson Arroyo (RHP, 9-7, 3.96 ERA) faces off against Vance Worley (RHP, 6-8, 4.11 ERA).