August 20, 2012
| Team | 1 | 2 | 3 | 4 | 5 | 6 | 7 | 8 | 9 | R | H | E |
| --- | --- | --- | --- | --- | --- | --- | --- | --- | --- | --- | --- | --- |
| Cubs | 0 | 0 | 1 | 0 | 0 | 2 | 0 | 1 | 0 | 4 | 7 | 0 |
| Reds | 1 | 0 | 0 | 3 | 0 | 0 | 0 | 0 | 1 | 5 | 10 | 3 |
W: Chapman (5-4) L: Camp (3-6)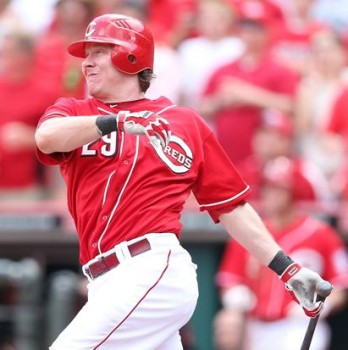 Despite 3 errors, the Reds pulled off a walk-off win against the Cubs yesterday to take 3 of the 4 games.
Mat Latos had a nice outing. Through 8 innings he allowed 4 runs (2 earned) on 6 hits and 2 walks. But since the offense didn't win it until the ninth, it was Aroldis Chapman who got the win. In the ninth, he allowed 0 runs on 1 hit and 0 walks. He struck out 2.
The offense was off to a good start when 3 of the first 4 batters got on base, and then Jay Bruce knocked in Zack Cozart to draw first blood. It looked even better in the fourth when a parade of singles by Jay Bruce, Frazier, Wilson Valdez, and Latos (plus a sac fly by Ryan Hanigan) put 3 more runs on the board.
But the Cubs had tied it up by the time last round-up time rolled around for the Reds, and no one was looking forward to extra innings with the trip to Philly looming. That's when Xavier Paul got his 1-for-1 triple to lead off the bottom of the ninth and set up Hanigan for his second RBI of the game.
The win brings the Reds' record to 74-48. Tonight they are hosted by the Phillies. Mike Leake (RHP, 5-7, 4.29 ERA) will try his hand against Roy Halladay (RHP, 6-7, 3.80 ERA). First pitch at 7:05 p.m.