Last Game
The Reds won walk-off style yesterday afternoon. The Cubs tied up the score at 4s in the top of the eighth, but there's no need for extras when Xavier Paul leads off the bottom of the ninth with a triple and Ryan Hanigan singles him in.
I wonder if this made Dusty Baker feel even more justified in having Hanigan bat eighth.
The win gave the Reds 3-of-4 over the Cubs. Meanwhile, the Cardinals and Pirates were battling it out for second place. The Pirates came out the victors and now trail the Reds by 6.5.
Next Game
Tonight the Reds visit the Phillies. Mike Leake (RHP, 5-7, 4.29 ERA) is coming off that awesome complete game against the Mets, but he's got his work cut out for him. Taking the mound for the Phillies will be Roy Halladay (RHP, 6-7, 3.80 ERA), who was injured earlier in the year and is recently doing better than his numbers indicate. First pitch at 7:05 p.m.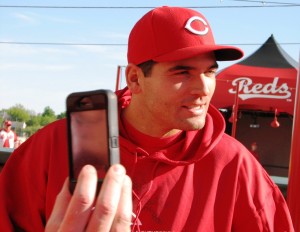 Still No Date for Votto's Return
It seems like we used to have some really big star on the team, but I've been looking at the box scores for the last month and I can't find anyone. Weird.
Joey Votto is participating in baseball activity again, at last, according to Reds.com. It's been 5 weeks since the arthroscopic meniscus surgery was supposed to keep him out for 3-4 weeks. Myself, I thought he'd make it back sooner, until he suddenly ripped yet more of the cartilage and needed a follow-up procedure.
Votto is not going on the trip to Philadelphia, and no one's prepared to say he'll be playing in the series against the Cardinals this weekend, though that's the early side of when he might be ready to play.
The rest of the team has been really great in his absence, and some guys who might not have gotten much attention otherwise have proven themselves. But it's Votto whose ABs you stop anything to watch. It's sort of sad that we're still without them.
What to Say to Sound Smart at the Water Cooler
The Reds had 6 errors by 6 different players in this series against the Cubs. Todd Redmond, Todd Frazier, Wilson Valdez, Jay Bruce, Zack Cozart, and Drew Stubbs each flubbed something.