August 15, 2012
| Team | 1 | 2 | 3 | 4 | 5 | 6 | 7 | 8 | 9 | R | H | E |
| --- | --- | --- | --- | --- | --- | --- | --- | --- | --- | --- | --- | --- |
| Mets | 0 | 0 | 0 | 0 | 0 | 0 | 0 | 0 | 0 | 0 | 6 | 0 |
| Reds | 0 | 0 | 0 | 0 | 0 | 0 | 0 | 0 | 3 | 3 | 11 | 1 |
W: Arredondo (5-2) L: Acosta (1-3)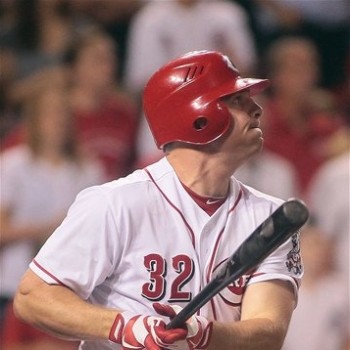 The score remained 0-0 in the bottom of the ninth until Jay Bruce came through with the 4th walk-off homer of his career to give the Reds the win in the series opener with the Mets.
Mat Latos started for the Reds and was lights-out. In his 7.0 innings of work, he allowed 0 runs on 5 hits and 2 walks. He struck out 4. Unfortunately for him, though, he left the game before the Reds put any runs on the board and only got a no-decision for his efforts.
Sean Marshall pitched the eighth and didn't allow a hit, but did walk a guy. Jose Arredondo pitched the ninth, allowed 1 run and 1 walk, and was in the right place at the right time to get the win.
Offensively, the Reds threatened several times, but just couldn't get a guy across the plate. Zack Cozart, Brandon Phillips, Ryan Ludwick, Jay Bruce, and Ryan Hanigan all got on base 2 or more times, but when the team leaves 14 on base over the course of the game, even that might not be enough.
But it all worked out in the bottom of the ninth. Phillips led off the inning with his third walk of the night, followed by Ludwick singling to left field. The Mets' pitching change at that point backfired on them, as Jay Bruce hit one over the left-field wall.
The win brings the Reds' record to 70-46. They have a 4-game win streak going and lead the NLC by 6 games over the Pirates. Tonight the series against the Mets continues at 7:10 p.m. Mike Leake (RHP, 4-7, 4.51 ERA) tries his hand against R.A. Dickey (RHP, 15-3, 2.72 ERA).