Last Game
The Reds kicked some Diamondback butt yesterday afternoon, sweeping the three-game series. They're the first team to reach 80 wins, and the Nationals and the Rangers, who are tied for the second-most wins in baseball, only have 77.
Mat Latos bounced back nicely, allowing 2 hits and striking out 7 in 7.0 innings of work. And the home run bats suddenly woke up, too. Three Reds hit home runs: Dioner Navarro, Brandon Phillips, and Chris Heisey hit 2.
Next Game
The Reds have today off. Funny how it doesn't feel as much like they needed it after a sweep, but at least they're going into their travel day on a high note.
ESPN Helps Me Google-Stalk Todd Frazier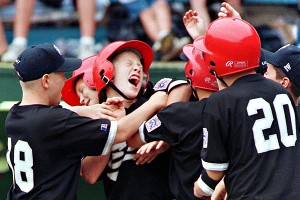 There was a nice, meaty story about Todd Frazier on ESPN.com yesterday. It talks about the normal stuff, like his unorthodox swing and his rookie-of-the-year chances, but it also covers some more personal details that we often don't really get about the players.
For example, did you know that there's a sandwich named after him in his home town of Toms River, NJ? Or that he played in the Little League World Series (pictured)? Or that he's getting married to former Rutgers gymnast Jackie Verdon in December?
Well, now there's an interesting tidbit. Google "Jackie Verdon" and on the very first page of results is the couple's wedding registry at Bed, Bath & Beyond.
So, the next time you think champagne flutes would be the perfect way to thank Frazier for getting the offense going or even if you'd just like to try to finagle an autograph via a thank you card, you can find something to send the happy couple.
If they get everything on this list, they're going to need a freakin' wing of the house to store all the crystal. I didn't even know there were two different sizes of blended Scotch tumblers. Must be the sort of thing you need to be a gymnast to know.
What to Say to Sound Smart at the Water Cooler
Joey Votto got a hit last night in his second rehab game with the Dayton Dragons. In the first game he'd walked and struck out.