August 6, 2012
| Team | 1 | 2 | 3 | 4 | 5 | 6 | 7 | 8 | 9 | R | H | E |
| --- | --- | --- | --- | --- | --- | --- | --- | --- | --- | --- | --- | --- |
| Pirates | 0 | 2 | 0 | 2 | 0 | 0 | 0 | 0 | 2 | 6 | 15 | 0 |
| Reds | 1 | 0 | 1 | 0 | 0 | 0 | 0 | 0 | 0 | 2 | 3 | 1 |
W: Burnett (14-3) L: Bailey (9-7) S: Hanrahan (32)
The Reds broke another winning streak yesterday afternoon by losing to the Pirates 6-2.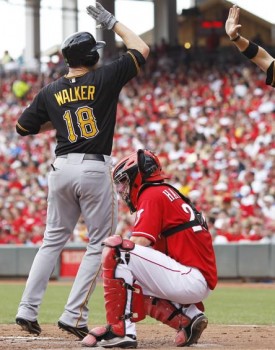 Homer Bailey has officially started a streak of his own: yesterday was his second bad outing in a row. He lasted only 4.2 innings, giving up 4 runs (earned) on 9 hits and a walk. But unlike last Tuesday, the offense could not bail him out this time and he got his seventh loss of the season.
Jose Arredondo finished the fifth without allowing a hit. Alfredo Simon pitched the next three innings and gave up 3 hits but no runs. Logan Ondrusek didn't fare as well in the ninth: he allowed 2 runs (1 earned) on 3 hits, but those weren't the runs that made the difference anyway.
The Reds have been short-staffed for a while now. Joey Votto is finally almost back after arthroscopic knee surgery, and Brandon Phillips was a late scratch on Saturday, being almost ready to play after his calf tweak. Devin Mesoraco remains on the concussion DL, and apparently it was no one else's turn to be the hero.
Only Drew Stubbs, Jay Bruce, and Ryan Ludwick even managed a single hit against AJ Burnett (each also drew a walk). Stubbs scored both of the team's runs: one thanks to a Bruce double after a walk in the bottom of the first, and the other on a solo shot in the third.
That loss brought the Reds' record to 66-42. The lackluster performance ends an otherwise good homestand on a low note and makes things feel worse than they really are. Today will be a better day: the Reds head to Milwaukee to take on the Brewers. Bronson Arroyo (RHP, 7-6, 3.87 ERA) faces off against Yovani Gallardo (RHP, 9-8, 3.92 ERA) at 8:10 p.m.