Last Game
Last night, the Reds won again. With Mike Leake going against R.A. Dickey, that was NOT what I expected to happen. But Leake put in a complete game, the offense damaged Dickey's Cy Young chances a little, and the win streak was extended to 5. Final score: Mets 1, Reds 6
Next Game
The Reds go for the sweep of the Mets tomorrow at 7:10 p.m. in Great American Ball Park. Homer Bailey (RHP, 10-7, 4.08 ERA) takes the mound against Matt Harvey (RHP, 1-3, 3.63 ERA).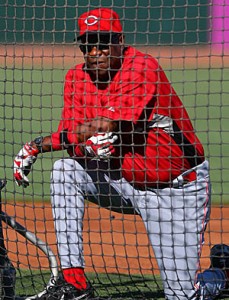 Baker Contract Extension Talks
I'm not sure whether the topic of a contract extension is actually coming up in an organic way or if it's just pushy reporters needing a story are bringing up the topic of their own accord, but there's a story on MLB.com about the Reds extending Dusty Baker's contract.
Reds manager Dusty Baker should not be concerned about his current contractual situation. Bob Castellini, the team's president and chief executive, wants Baker around for a long time.

"I would like to see Dusty Baker as a member of our organization for many years to come," Castellini told MLB.com on Wednesday, as two days of quarterly Owners' Meetings began here at the Four Seasons Hotel. "That's it."
I suppose if it ain't broke you don't screw with it, but I can't help but groan at the notion of the Reds marrying Baker. All his annoying habits (the catcher MUST bat eighth, not matter what his OBP) are still there; they're just easier to ignore when the team is winning.
And the fact that they're winning is not something I'm prepared to give him credit for. If he were the magic man here, we wouldn't just now be getting to a serious post-season contention place in his fifth year on the job.
But now sure as hell isn't the time to say that they're going to be looking for a change of pace. I'm just clinging to the vagueness of Castellini's "with the organization" comment until it matters, hopefully not until early November.
What to Say to Sound Smart at the Water Cooler
Mike Leake's complete game last night was his second of the season, tying Johnny Cueto and Mat Latos for the most on the team. Bronson Arroyo and Homer Bailey have one complete game apiece.