August 8, 2012
| Team | 1 | 2 | 3 | 4 | 5 | 6 | 7 | 8 | 9 | R | H | E |
| --- | --- | --- | --- | --- | --- | --- | --- | --- | --- | --- | --- | --- |
| Reds | 0 | 0 | 0 | 0 | 0 | 0 | 1 | 0 | 0 | 1 | 3 | 0 |
| Brewers | 2 | 0 | 0 | 0 | 0 | 0 | 1 | 0 | - | 3 | 8 | 0 |
W: Fiers (6-4) L: Cueto (14-6) S: Henderson (1)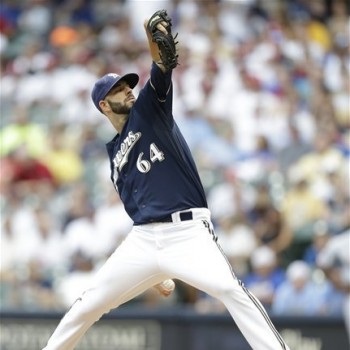 The Reds looked like crap last night, notching their third loss in a row and securing the series loss against the Brewers.
Johnny Cueto started for the Reds and actually didn't look like crap. In 7.0 innings of work he allowed 3 runs (earned) on 6 hits and 0 walks. Sean Marshall and Sam LeCure didn't look like crap either, when they shared the eighth inning and didn't allow a run on 2 hits collectively.
I guess I would have been more specific to say that the offense looked like crap yesterday. You might say it's due to the Brewer's hot rookie right-hander Mike Fiers, who held the Reds to 1 run on 3 hits through 8 innings. Fiers is having a helluva season, but the Reds are up 12 games on this team. They're letting its rookies take them to school?
FYI, those 3 hits came from Zack Cozart, Xavier Paul, and Ryan Hanigan. The one RBI belongs to Brandon Phillips who sacrificed Cozart in in the seventh. And that's all that separated Fiers from a perfect game. Not so much as a walk or a HBP for anyone else. What is this? May all over again?
The loss brings the Reds record to 66-44. They're 1 game behind the Nationals for the best record in baseball, but it's harder to be happy about that right now. They try to redeem themselves and avoid the sweep this afternoon. Mat Latos (RHP, 10-3, 3.94 ERA) goes against Randy Wolf (LHP, 3-8, 5.57 ERA). First pitch at 2:10 p.m. and this game is on t.v., if you'd like to bear witness.