Last Game
After taking a double shut-out into the ninth inning, Jay Bruce hit a walk-off 3-run home run to beat the Mets 0-3. Mat Latos totally kicked ass through 7.0 IP for the Reds' fourth win in a row.
Next Game
Tomorrow the Reds continue the series with the Mets, and it could be an ugly one. R.A. Dickey (RHP, 15-3, 2.72 ERA) leads the charge for the Mets, and he's been on a hotter-even-than-usual streak. Defending the Reds will be Mike Leake (RHP, 4-7, 4.51 ERA). First pitch at 7:10 p.m.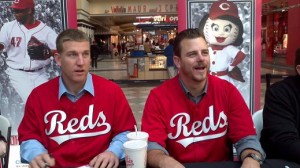 Reds Injury Update
Of course, we're all waiting with bated breath for the return of Joey Votto, who underwent a follow-up arthroscopic procedure on his knee on Friday and isn't interested in joining the line-up until he's 100% better. We might see him for the series against the Cardinals in a week and a half, or maybe not.
But there are a couple other guys hurting, too. Scott Rolen is day-to-day with back soreness that's had him out of the line-up for a week. The team is on a 4-game winning streak, so his absence hasn't sunk them, but it'd be nice to see him back on the field or on the DL to free up the roster spot.
Nick Masset, who had some shoulder trouble, has pitched 3 rehab innings in Louisville where he gave up his first 2 runs of his rehab. Bill Bray, who had a lumbar muscle strain, is also approaching eligibility to come back. Without obvious weak spots in the bullpen, though, it's not clear where they'll fit in. It was hard enough making room for Jonathan Broxton when he joined up.
What to Say to Sound Smart at the Water Cooler
The Reds will break their streak of starting only 5 pitchers on Saturday in their double-header against the Cubs. They will take advantage of a new rule allowing them to add a 26th man to the roster for double-headers to add a starter. They haven't announced who that starter will be, but it's likely to be Todd Redmond.
Assuming they make it to Saturday with the same 5 guys, it will be a streak of 119 games with the same 5 starters. In fact, it'll be 120 if Johnny Cueto starts the first game of the double-header.