Last Game
The Reds dropped an ugly game to the Mets last night to end the latest winning streak. Homer Bailey did not have a good outing, just as he hasn't over his last four outings. If the pitcher introduced in the double-header tomorrow makes a good start, maybe Bailey will be getting a little more rest. It's hard to imagine how he'd contribute to a postseason team in this state.
Next Game
The Reds play host in the opening game of a series against the Cubs tonight. Bronson Arroyo (RHP, 8-7, 3.95 ERA) is looking to get the team back on the winning track as he faces off against Travis Wood (LHP,
4-8, 4.52 ERA). The Reds faced Wood last weekend and fared poorly, but the Chicago bullpen blew it and the Reds came out with the win. Hopefully the Reds can get on the smiling side of the scoreboard from the get-go tonight. First pitch at 7:10 p.m.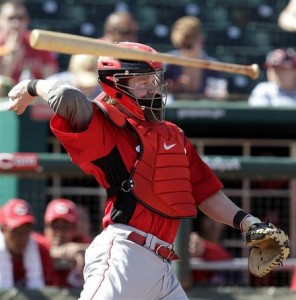 Ryan Hanigan and his 2-hole OBP
Sometimes it feels like the whole world of Reds fandom can be talking about something while the manager remains completely oblivious. It's been that way with the talk about needing to move Ryan Hanigan up in the line-up.
Hanigan is hitting .282 with a .368 OBP. That's the Joey-Votto-echelon of OBP. The dude is not fast, but he's certainly wasted in the number 8 spot, where he finds himself on first just in time to have the pitcher end the inning.
But news of this has, in fact, reached Dusty Baker's ears. Reds.com put up this story to tell the world why Baker says Hanigan is actually "ideal" for the role of futility batter:
Don't expect Baker to heed those wishes. Tuesday's game was an example of why, as Hanigan reached base three times with two outs — on a second-inning intentional walk, a fourth-inning double and a sixth-inning single.
Hanigan: on base 3 times on Tuesday; left on base 3 times on Tuesday. How, precisely, is this an argument for keeping the guy in a place in the line-up where no one will ever hit him in?
Later in the same article, Baker is quoted as saying:
"I know a lot of people are saying, 'Hey, he should hit second,'" Baker said. "He walks a lot, he gets a lot of intentional base on balls. He would be hitting higher if he ran any better. I think he's a perfect eighth hitter and perfect for what we need on this team."
It's true that Hanigan has been intentionally walked more than most guys on the roster this season. But those 10 IBBs are probably not the key to his on-base success, if that's what Baker is implying.
Myself, I take it as a good sign. In the past it seems like Baker has made a point to justify his stupid decisions to the media just before changing them. On the other hand, this team is leading the NLC by 6 games right now. We probably won't see Hanigan freed from the futility hole unless that margin shrinks significantly.
What to Say to Sound Smart at the Water Cooler
You might not have noticed it, what with the long outings the starters have been putting in lately, the higher profile injuries, and the fact that I can't find more than a 1-sentence reference to it on any news site, but our shiny new trade-deadline acquisition, Jonathan Broxton, is day-to-day with shoulder soreness. He hasn't pitched since August 10.