August 17, 2012
| Team | 1 | 2 | 3 | 4 | 5 | 6 | 7 | 8 | 9 | R | H | E |
| --- | --- | --- | --- | --- | --- | --- | --- | --- | --- | --- | --- | --- |
| Mets | 0 | 0 | 0 | 3 | 0 | 3 | 0 | 0 | 2 | 8 | 9 | 0 |
| Reds | 0 | 0 | 0 | 0 | 0 | 0 | 1 | 0 | 3 | 4 | 8 | 3 |
W: Harvey (2-3) L: Bailey (10-8) S: Rauch (3)
There's almost no part of the game last night that doesn't qualify as an all-out stinker as the Reds broke their 5-game win streak in the final game of the series against the Mets.
Homer Bailey's performance certainly qualifies. In just 5.2 innings, he allowed 6 runs (4 earned) on 8 hits and 3 walks. I was on the road last night so I didn't see the game on t.v., but I did hear part of it on the AM band. Marty was talking about how much better Bailey's numbers are on the road than at Great American Ball Park, and he suggested that that fear of giving up home runs has Bailey pitching differently at home. That might be it, I suppose. He might also just be tired. Either way, really crummy performance last night.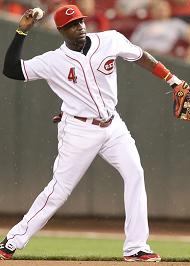 Alfredo Simon did well in his 1.1 innings of relief, not allowing any runs or hits, just a walk. Logan Ondrusek was even better; he didn't allow any baserunners at all in his perfect 1.0. Jose Arredeondo, though, dragged the collective bullpen performance into the stinker category by allowing 2 runs (1 earned) on a hit and a walk in the ninth.
The defensive contribution was certainly a stinker. Brandon Phillips (of all people) had a throwing error in the fourth that allowed Jason Bay to get into scoring position and come home 2 batters later.
Scott Rolen committed a fielding error in the sixth. There was only one out, and the next out was a sac fly, so it's hard to know how it would have gone down without the flub, but I think we can guess that probably 3 runs wouldn't have scored that inning.
Zack Cozart completed the trifecta of errors in the ninth, allowing Justin Turner to reach and Ike Davis to score. Hmm…three errors, one in each of the three innings in which the Mets scored. Go figure.
It's hard to call the offense a stinker when they scored 4 runs, but it gets an honorable mention at least. They made it look like more of a game than it really was with 3 runs in the ninth. The RBI belong to Cozart, Ryan Ludwick, Jay Bruce, and Miguel Cairo. Bruce was the only one with more than 1 hit: he was 2-for-4. Ludwick got on twice with a hit and an HBP.
The loss brings the Reds' record to 71-47. They start fresh tonight when they open a series against the Cubs. Bronson Arroyo (RHP, 8-7, 3.95 ERA) will take the mound for the Reds against Travis Wood (LHP,
4-8, 4.52 ERA) for the Cubs. First pitch at 7:10 p.m.