August 29, 2012
| Team | 1 | 2 | 3 | 4 | 5 | 6 | 7 | 8 | 9 | R | H | E |
| --- | --- | --- | --- | --- | --- | --- | --- | --- | --- | --- | --- | --- |
| Reds | 0 | 3 | 0 | 0 | 0 | 0 | 0 | 2 | 0 | 5 | 9 | 0 |
| Diamondbacks | 1 | 0 | 0 | 0 | 1 | 0 | 0 | 0 | 0 | 2 | 4 | 1 |
W: Cueto (17-6) L: Miley (14-9) S: Chapman (33)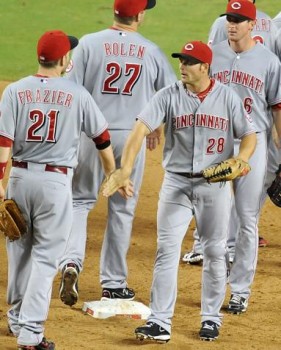 Lots of good things happened in the Reds' win over the Diamondbacks last night.
Johnny Cueto was the first pitcher to reach 17 wins this season. He did it by working 7.0 innings, giving up 2 runs (earned) on 4 hits and a walk. After that, Jonathan Broxton put in a hitless inning, followed by Aroldis Chapman doing the same for his 33rd save of the year. That's 25 successful save conversions in a row for Chapman.
The second inning saw Scott Rolen putting his wisdom and patience to good use, driving up the pitch count in a single at bat by 15 pitches before eventually drawing the walk. Combined with singles from Todd Frazier, Chris Heisey, and Ryan Hanigan, the Reds scored 3 runs that inning.
As if that weren't enough, Brandon Phillips, Ryan Ludwick, and Frazier hooked up again in the eighth inning to put a couple more runs on the board. Phillips, Frazier, Heisey, and Hanigan each had 2-hit games.
The win ensures a win of the series and opens up the possibility of the sweep this afternoon. It brings the Reds' record to 79-52, which is the best record there is in baseball today. The series capper will feature Mat Latos (RHP, 10-4, 3.84 ERA) taking on Patrick Corbin (LHP, 5-5, 3.91 ERA). First pitch at 3:40 p.m. EDT.