August 31, 2012
The last big baseball holiday of the year is here already and there's lot of stuff going on for Reds fans.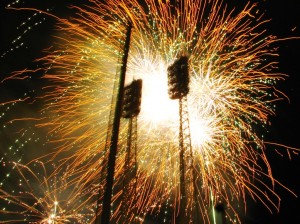 Friday, August 31
Reds visit the Astros at 8:05 p.m.
Mike Leake (RHP, 6-8, 4.51 ERA) faces Fernando Abad (LHP, 0-1, 3.62 ERA)
Joey Votto makes one more rehab appearance with the class A Dayton Dragons. The game is at home and starts at 7:00 p.m.
Saturday, September 1
Reds continue the series with the Astros at 7:05 p.m.
Homer Bailey (RHP, 10-9, 4.24 ERA) takes on Lucas Harrell (RHP, 10-9, 3.92 ERA)
(Wait, the Astros have a 10-game winning pitcher? That means he has 1/4 of the team's total number of wins.)
Rosters expand
Watch out NLC: Joey Votto returns to the Reds' line-up! …or does he?
Sunday, September 2
Last home night game for the Louisville Bats at 7:05 p.m.
Reds finish out the series with the Astros at 2:05 p.m.
Bronson Arroyo (RHP, 11-7, 3.84 ERA) against Bud Norris (RHP, 5-11, 5.01 ERA)
Monday, September 3
Last home game for the Louisville Bats at 1:05 p.m. Time to call some guys up!
Phillies visit the Reds at 1:10 p.m.
FS Ohio is doing something special. Here's the press release:
The Cincinnati Reds play host to the Philadelphia Phillies this Labor Day on Monday, Sept. 3rd at 1pm. As part of the network's Labor Day Salute, FOX Sports Ohio will showcase those who work behind-the-scenes at Great American Ball Park.

Feature reporter Brian Giesenschlag will highlight various hard working staff members at the ballpark, including the grounds crew, cleaning crew, ushers and more.

Tune in at 1pm on Monday for the Reds v. Phillies and FOX Sports Ohio's Labor Day Salute. Reds Live pregame show will begin at 12:30pm.
Quick! Take in as much baseball and summer fun as you can before football gets its inexorable grip on society. Happy Labor Day, everyone!