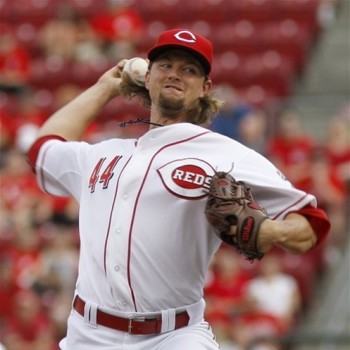 Last Game
The Reds had a well-deserved day off yesterday. I thought I'd enjoy a night off of baseball myself, but ended up turning on the Cardinals/Nationals game. The Nationals won, by the way, 8-1.
Next Game
The Reds head to Houston today to face off against the dismal 40-91 Astros.
Mike Leake (RHP, 6-8, 4.51 ERA) was hit hard in his last outing last Saturday against the Cardinals, but he didn't give up many runs. His opponent will be Fernando Abad (LHP, 0-1, 3.62 ERA) who will be putting in his second start for the Astros this season.
Chapman on MLB Network
I suppose I ought to be talking about Joey Votto's recent comments that he was holding back in his rehab assignment to protect his ouchie knee, but I'm tired of writing a post every time Votto turns around. Let's save some of that compulsive Votto obsession for when he's actually back in the line-up.
Instead, I'm going to share this MLB Network video about Aroldis Chapman. Dang, that guy can throw fast.

What to Say to Sound Smart at the Water Cooler
While the Reds have been going about their business, the race for second place in the NLC has been more interesting. The third place Pirates beat up on the Cardinals to pull themselves to within half a game of second. The Cardinals are now 8.5 games back while the Pirates are 9.0.