May 13, 2012
| Team | 1 | 2 | 3 | 4 | 5 | 6 | 7 | 8 | 9 | R | H | E |
| --- | --- | --- | --- | --- | --- | --- | --- | --- | --- | --- | --- | --- |
| Nationals (21-12) | 0 | 0 | 0 | 0 | 1 | 1 | 0 | 0 | 0 | 2 | 6 | 0 |
| Reds (16-16) | 1 | 0 | 0 | 0 | 0 | 0 | 0 | 0 | 0 | 1 | 5 | 0 |
W: Zimmermann (2-3) L: Arredondo (2-1) S: Rodriguez (8)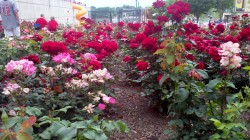 For Joey Votto bobble head night, we watched the game between the Cincinnati Reds and the Washington Nationals from the comfortable confines of the Champions Club.
In this episode of the podcast, we review the abundant food selections in the Club, as well as discuss the recent trip to the disabled list by Scott Rolen.
The continued frustrating play of the Reds warranted a mention or two, as well, thanks to the Reds managing to score just one run during the game.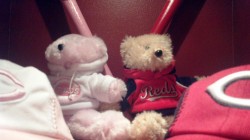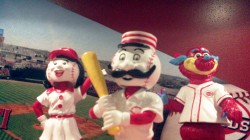 Podcast: Play in new window | Download