May 13, 2012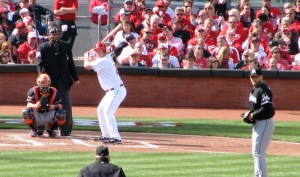 The big news before yesterday's Cincinnati Reds game was the third baseman Scott Rolen was experiencing pain in his shoulder again.
"[Rolen] called me today and said it was barking," [trainer Paul] Lessard said. "That's why we called Doc (Tim Kremchek) to come in and take a look at him. We took a quick look at him, and there's nothing really specific right now. It's kind of sore all over."
After that examination, Rolen was placed on the 15-day disabled list.
"I'm hurting," Rolen said. "I'm in pain. I'm not healthy right now. As much as I want to help the team, I'm hurting the team."
I feel for Rolen. In his time with the Reds, when he's been healthy, he's been an invaluable addition to the roster. Unfortunately, age and injury are catching up with the 37-year-old athlete.
After 4 surgical procedures on that shoulder–the most recent one in August of 2011–it's not crazy to wonder if this is the end of Rolen's career. That's possible, but only time will tell. For now, Rolen's going to rest his shoulder for 2+ weeks. If the pain subsides and the inflammation dies down, hopefully he can come back and swing a productive bat again. He was hitting well as recently as Spring Training.
Until then, manager Dusty Baker's conundrum of how to treat an under-performing veteran in the face of an over-performing rookie has been solved. Todd Frazier is likely to get a lot of starts at 3rd in Rolen's absence. He's well-positioned to make the most of it.