Last Game
Last night's game was a good ol' fashioned blow out, the likes of which the Reds have not been the victims of the whole season. The offense managed 5 runs against Roy Halladay, which is nothing to sneeze at, but Mike Leake could do nothing to restrain the Phillies, who touched him for 7 runs in 4.1 innings.
To be fair to Leake, the Phillies line-up also got to the bullpen for another 5 runs before it was all over. In fact, there was only one inning where the Phillies didn't score, and it was one of Leake's. So there's that. For those who have lost track, the final score was Reds 5, Phillies 12.
Next Game
Things don't get too much better tonight as the series continues. The pitcher for the Phillies, Cliff Lee (LHP, 2-7, 3.83 ERA), gave up 3 home runs in his last start. Unfortunately the pitcher for the Reds, Homer Bailey (RHP, 10-8, 4.16 ERA), has been having a pretty rough time of it lately. According to the Gameday Probables page, Bailey is 1-2 with an 8.24 ERA since July 31. In that span, he's allowed 35 hits.
Hopefully the Phillies' batters will be tired after yesterday.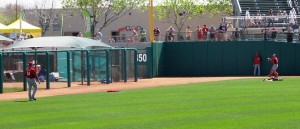 What's Eating Homer Bailey?
Bailey had an exceptionally great July, which puts his not-so-steller August in sharp relief. Maybe if he'd been mediocre the whole way through, no one would be asking not about whether he's hurt or fatigued. But he wasn't, and now people are asking.
There's an article about possible Bailey fatigue on Cincinnati.com today. Dusty Baker has been saying that he doesn't think anything is wrong with Bailey physically because his velocity is still high. In this article, pitching coach Bryan Price agrees:
As with all the guys, we keep our fingers crossed that they stay all year. But we don't see any signs that there's a health issue with Homer.
Rather, he says they're working on a "glitch" that is affecting Bailey's release point. I guess he knows what he's talking about, but I'd rather have an excuse to hold on to understand why Bailey is suddenly so unreliable.
To that end, I'm trying to decide whether a person could actually be fatigued without feeling bad or losing velocity. I suppose it could sneak up on you and you wouldn't feel the difference, but what about the pitch speed? Maybe his speed *is* down. Maybe, if Bailey were 100%, he'd be throwing 98. OK, probably not.
What to Say to Sound Smart at the Water Cooler
The Phillies are 57-65, but the Reds have lost their last 7 games to them. They've just had the Reds' number. It's kind of a relief that the Phillies are 10 games back on the wildcard.