August 21, 2012
| Team | 1 | 2 | 3 | 4 | 5 | 6 | 7 | 8 | 9 | R | H | E |
| --- | --- | --- | --- | --- | --- | --- | --- | --- | --- | --- | --- | --- |
| Reds | 2 | 0 | 0 | 0 | 3 | 0 | 0 | 0 | 0 | 5 | 12 | 0 |
| Phillies | 1 | 0 | 1 | 1 | 4 | 3 | 1 | 1 | - | 12 | 15 | 0 |
W: Halladay (7-7) L: Leake (5-8)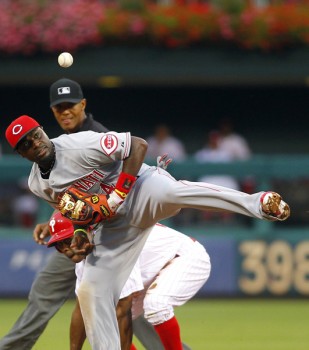 Well, there's good news and there's bad news about last night's game. First, the good news:
The Reds didn't commit any errors.
The Reds did score 5 runs, and it was Roy Halladay starting.
No one in the game suffered a career-ending injury (if you haven't got your health, you haven't got anything).
And the bad news:
Mike Leake started for the Reds in the series opener against the Phillies. He lasted only 4.1 innings, giving up 7 runs (earned) on 10 hits and a walk. This is coming off that complete game he threw last time, you'll recall.
But it wasn't just him. The bullpen didn't fare any better. Sam LeCure worked the next .2 innings, allowing 2 more runs (earned) on a hit and a walk. Jose Arredondo did the best of anyone, but still allowed an earned run on a hit in his 1.0 innings of work. Logan Ondrusek mopped up the last couple innings, allowing 2 runs on 3 hits, 2 walks, and a HBP.
If there's a Reds' hero to be had in this game, it's Jay Bruce. He went 3-for-3 with a walk and 2 RBI. Bruce is on fire! If only we can keep the Phils from putting it out. Chris Heisey went 3-for-4 with a run scored, and Brandon Phillips went 2-for-4 with 2 runs scored.
Hopefully the guys have been resting up tonight because they're going to need all the energy they can muster as this series rolls on. Homer Bailey (RHP, 10-8, 4.16 ERA) takes the mound for the Reds against Cliff Lee (LHP, 2-7, 3.83 ERA) of the Phillies. First pitch at 7:05 p.m.