August 23, 2012
| Team | 1 | 2 | 3 | 4 | 5 | 6 | 7 | 8 | 9 | R | H | E |
| --- | --- | --- | --- | --- | --- | --- | --- | --- | --- | --- | --- | --- |
| Reds | 0 | 0 | 0 | 0 | 2 | 0 | 0 | 1 | 0 | 3 | 11 | 1 |
| Phillies | 0 | 0 | 0 | 0 | 1 | 0 | 0 | 0 | 1 | 2 | 4 | 1 |
W: Arroyo (10-7) L: Worley (6-9) S: Chapman (31)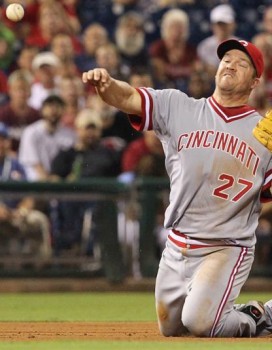 The Reds won their second game in a row against the Phillies last night to ensure no less than a split of the four-game series.
Over the course of his career, Bronson Arroyo has had more trouble with the Phillies than with any other team. On the other hand, he's also a guy who never seems to do what you expect him to, and that won out last night. In 8.0 innings, he allowed 2 runs (earned) on just 3 hits. This is the team that scored 12 two games ago, and Arroyo takes a perfect game into the fifth. Will wonders never cease?
The Reds offense first got on the board in the fifth inning. Ryan Hanigan walked to start it off and Arroyo sacrificed him over. A Drew Stubbs single two batter later brought in Hanigan (but I thought he was super-slow?) and set up Ryan Ludwick for an RBI single (after a Brandon Phillips single).
Jay Bruce added the capper in the eighth when he led off the inning with a home run to right field. Bruce also had a triple that didn't amount to anything but was cool.
The win brings the Reds' record to 76-49. They finish the series with the Phillies tonight at 7:05 p.m. The Reds's ace and Cy Young contender Johnny Cueto (RHP, 16-6, 2.44 ERA) will face off against a guy whose name I always want to change into "Whole Camels," Cole Hamels (LHP, 14-6, 2.94 ERA).