August 4, 2012
| Team | 1 | 2 | 3 | 4 | 5 | 6 | 7 | 8 | 9 | R | H | E |
| --- | --- | --- | --- | --- | --- | --- | --- | --- | --- | --- | --- | --- |
| Pirates (60-45) | 0 | 0 | 0 | 0 | 0 | 0 | 0 | 0 | 0 | 0 | 4 | 0 |
| Reds (65-41) | 0 | 1 | 0 | 0 | 2 | 0 | 0 | 0 | - | 3 | 7 | 0 |
W: Latos (10-3) L: Rodriguez (7-10) S: Chapman (24)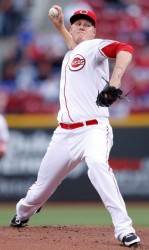 In the first game of the showdown between the Cincinnati Reds and the Pittsburgh Pirates, Mat Latos dominated from both sides of the plate.
Latos went 7 1/3 innings and shut out the Pirates. He allowed 4 hits, 3 walks, and struck out none. With the shutout assistance from the bullpen–Jonathan Broxton and Aroldis Chapman–Latos picked up his 10th win of the season. He now joins Johnny Cueto as the second starter on the team with wins in the double-digits. Homer Bailey is likely to be next to join them, as he has 9 wins. Bronson Arroyo is a ways away with only 7.
On the offensive side, the Reds took the lead in the 2nd thanks to an inside-the-park home run from Chris Heisey. Latos himself contributed to making things easier for himself by hitting a 2-run home run in the 5th inning. The ball was caught by a Pirates fan who promptly got rid of the ball. It was the first home run of the year for Latos, but the 3rd of his career.
Three runs was more than enough for the Reds' 65th win. The win increased the Reds' lead over the Pirates to 4 games and assured Cincinnati of being alone in first no matter what happens in the remaining two games.