Last Game
The Reds are a team with a streak of streaks. Last night's 3-0 win over the Cubs gave them a third win in a row. Before that, it was 5 losses in a row. Before that, 5 wins. The last time the Reds either won or lost just one game was July 30 when they dropped the first game in the series to the Padres to break up the 10-game win streak.
Johnny Cueto pitched a helluva game yesterday. In 8.0 innings, he allowed only 3 hits and 2 walks. Aroldis Chapman closed it out. It looks like Dusty Baker wasn't taking any chances as far as pitchers go. Jay Bruce also returned to the line-up after a couple days off and hit a big fat home run for 2/3 of the Reds' score.
Next Game
The Reds are off today. They'll return tomorrow to host the Mets.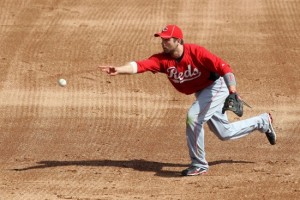 Floating Cartilage Sets Votto Back 7-10
Tomorrow's opening game against the Mets probably would have been the one where Joey Votto made his triumphant return to the line-up after being out for 4 weeks with arthroscopic knee surgery. However, after suffering from soreness after sliding drills, a new MRI discovered the utterly nauseating notion of "floating cartilage" in his knee.
So, in a similarly nauseating procedure, they re-opened the same hole they had cut into before and removed the cartilage. They should just install a zipper for ease of access next time. The new surgery will add another 7-10 days to Votto's recovery time, so we may not be seeing our MVP until the Reds visit the Cardinals next Friday.
What to Say to Sound Smart at the Water Cooler
Yesterday Johnny Cueto got his 15th win, which puts him in a 4-way tie for the most in the majors. The other three guys are R.A. Dickey (Mets), David Price (Rays), Jared Weaver (Angels).