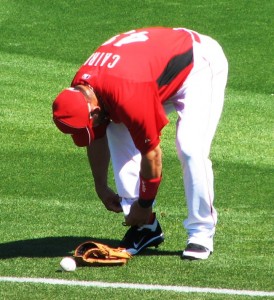 Last Game
The Reds lost in extra innings last night to end the four-game series against the Phillies in an even-split.
It's surprising that it took the Phillies all the way until the 11th inning to walk off with this one, given how many opportunities they had, such as the most ridiculous error I can ever remember having seen.
It was the bottom of the ninth and Sam LeCure walked the lead-off batter. Kevin Frandsen bunted toward the first base side of the mound and Cairo fielded the ball. He went for the runner, but failed to actually tag him (thinking he'd go out of the line, probably, but he hadn't) and then failing to throw to second when he dropped the ball.
At least it's over with now, and we can get past it. The final score was Reds 3, Phillies 4.
Next Game
Tonight the Reds return home to host the Cardinals. Earlier in this season, it looked like this would be a real critical series. I'm sure it will have plenty of excitement, but its not the battle for first: even a Cardinals' sweep would still leave them 4 games back.
Mat Latos (RHP, 10-3, 3.56 ERA) will take on Lance Lynn (RHP, 13-5, 3.73 ERA) of the Cardinals. First pitch at 7:10 p.m.
Barry Larkin Weekend
It's Barry Larkin weekend in Cincinnati to celebrate the newly HOF-inducted shortstop and retire his jersey number 11. Tonight's game will have a couple cool Barry-themed events but it's tomorrow's activities that has me considering making the drive.
There's a block party going all afternoon and evening on Joe Nuxhall Way and Freedom Way. According to the press release, it looks like it will start before the game and extend into the night. Larkin is scheduled to speak and his daughter is putting on a concert. I just hope it doesn't get too rowdy, what with all the unhappy Cardinals fans running around.
What to Say to Sound Smart at the Water Cooler
Devin Mesoraco's suspension is over, but he's not back with the team. The Reds optioned him to AAA Louisville to give him more at-bats. They used his spot to call up J.J. Hoover, who was a bright spot in last night's game.