Last Game
The Reds never led in the last game of the series against the Cardinals last night, and they ended up losing the game 8-2 and the series 2-1. Homer Bailey had another rough outing, giving up 5 runs (earned) on 9 hits in 6.0 innings of work. The real question, though, is why no player made it on base more than once last night. The offense could only muster 7 hits in its 32 ABs.
Next Game
Despite everyone's need for an off-day, the Reds head to Arizona tonight to take on the Diamondbacks. Bronson Arroyo (RHP, 10-7, 3.87 ERA) tries his luck against Tyler Skaggs (LHP, 1-0, 2.70 ERA). It is only Skaggs' second major league start, so he certainly has the benefit of surprise. First pitch at 9:40 p.m.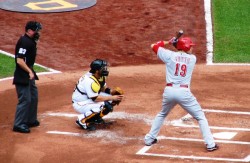 Awaiting the Return of Votto
At long last, the Reds are willing to say when they expect to have Joey Votto return to the line-up. The plan is to have him play a couple rehab games with A Dayton starting Tuesday (as if it weren't already hard enough to get into a Dragons' game) and then rejoin the Reds when they visit Houston on Friday.
We haven't seen Votto in the line-up since July 16. He should have come back from arthroscopic surgery on his knee a long time ago, but then he did more damage to his knee doing sliding drills and had to have a follow-up procedure on August 10.
In case you're wondering, the answer is no: he won't be doing any more sliding drills before his rehab start.
What to Say to Sound Smart at the Water Cooler
We may not be getting Nick Masset back when the rosters expand after all. After experiencing some soreness in his shoulder, Masset has undergone an MRI. The word is still out on how it will affect his chances of playing this year.