October 19, 2006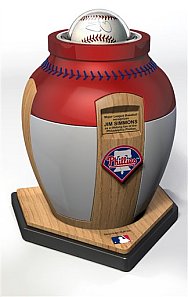 Major League Baseball has struck a deal to put team logos on caskets and urns. Starting next year, the dearly departed fans of the Yankees, Red Sox, Tigers, Phillies, Cubs, and Dodgers can spend their posthumous existence entombed in their team colors.
Each urn will be stamped with a message saying Major League Baseball officially recognizes the deceased as a lifelong fan of that team.
If the pilot project goes well, they could expand to include more teams. If waiting for the next Reds' World Series wasn't enough to keep you going, hanging on for the availability of a Reds-themed final resting place certainly is.
Go read the story on ABC News. You can also check out Eternal Image, the company that will be making the coffins and urns. Among their other themes are Precious Moments, and the urn is just a disgustingly cute as the little figurines your aunt collects.