October 25, 2006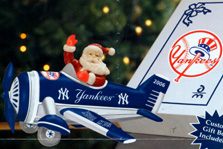 Foul Fly Bawl in the New York Post.
The Yankees Victory Plane ornament is now available for your holiday decorating enjoyment. It depicts Santa clause in a plane that bears the New York Yankees logo. This, less than a month after Yankee's pitcher Cory Lidle was killed in a plane crash.
Presumably they're going after the market of people who buy horrifyingly inappropriate products. This may be just the first in a series. Next month: bobbleheads for Parkinson's Disease awareness.