January 31, 2011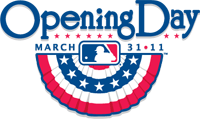 The Cincinnati Reds have launched their web page to allow fans the chance to purchase tickets to opening day.
The Reds open the season a bit earlier this year, starting the season on March 31 when they host the Milwaukee Brewers at 2:10pm EDT. And all you have to do to have a chance to be there is fill out the form and hope. Or buy a season ticket. Whichever.
I know I'll be trying for my chance. I've never been to Opening Day before, but it sounds like a fun day, as long as it's not too cold.