August 9, 2012
| Team | 1 | 2 | 3 | 4 | 5 | 6 | 7 | 8 | 9 | R | H | E |
| --- | --- | --- | --- | --- | --- | --- | --- | --- | --- | --- | --- | --- |
| Reds | 0 | 0 | 2 | 0 | 0 | 0 | 0 | 0 | 0 | 2 | 6 | 1 |
| Brewers | 0 | 0 | 0 | 0 | 0 | 1 | 0 | 2 | - | 3 | 6 | 0 |
W: Axford (4-6) L: Broxton (2-3) S: Henderson (2)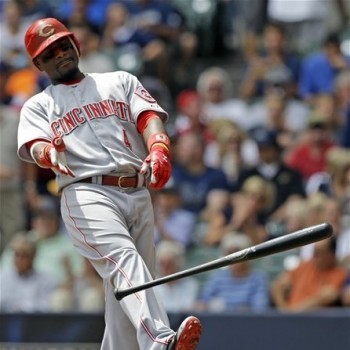 The Reds wasted a lovely start by Mat Latos yesterday afternoon to notch their fourth loss in a row.
In 7.0 innings of work, Latos allowed just 1 run (earned) on 3 hits and a walk. He struck out 8. Seriously, as this guy gets older and gets better control over his Mr. Hyde side, he's going to be a serious weapon.
Sadly for him, though, a W was not in the cards. Jonathan Broxton came in for the next .2 innings and gave up 2 runs (earned) on 3 hits in that amount of time. Logan Ondrusek got the last out in the eighth. He didn't allow any runs or hits, but did give up a walk.
Now, giving up 2 runs in .2 innings isn't good, but I propose it wasn't really the problem here. The first place team in the division ought to be able to come back from a 1-run deficit to the fourth place team in the division. The offense only managed 6 runs in the whole 3-game series with the Brew Crew. I'd say the Milwaukee clubhouse manager replaced the Reds usual bats with Folgers Crystals, except the lack of offense started in the last game before the road trip.
FYI, the team's two RBI belong to Dioner Navarro who hit a home run in the top of the third with Miguel Cairo on first base. The only Red who collected more than one hit on the night was Latos. He's a weapon, I tell ya.
The loss brings the Reds' record to 66-45. Tonight they head to Chicago to try to change their luck against the Cubbies. Chris Volstad (RHP, 0-8, 7.22 ERA) leads the charge for the Cubs against Mike Leake (RHP, 4-7, 4.51 ERA) for the Reds. First pitch at 8:05 p.m.