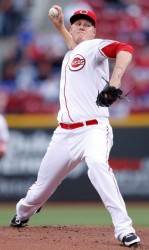 Last Game
Mat Latos threw a real sparkly gem, but Reds-noob reliever Jonathan Broxton blew it in the eighth to lose to the Brewers, 2-3. The loss gave the Brewers the sweep of the series and gave the Reds their fourth loss in a row.
Fortunately for the Reds, the Pirates have returned to earth and also have a 5-5 record over their last 10, so the division lead remains at 2.5.
Next Game
Today the Reds hope for a boost from a chance of scenery. They head to Chicago to take on the Cubs for a four-game set. Mike Leake (RHP, 4-7, 4.51 ERA) hasn't exactly been putting himself in the Cy Young conversation lately, but if there was ever a chance to bounce back, it's against the Cubs. He'll face off against Chris Volstad (RHP, 0-8, 7.22 ERA), who is winless in 21 starts.
The Cardinals Losing is Keeping me up at Night
I have an app on my phone that beeps whenever the score changes in the Reds, Pirates, or Cardinals game. Last night, it beeped and I saw the Cardinals were down 2-0 to the Giants. When it beeped again, they were down 7-0. I was already in bed when it was 11-0, and the 15-0 beep woke me up.
What an incredible shellacking. Ryan Vogelsong and crew held the Cardinals to just 4 hits and 4 walks, while touching Joe Kelly and his relievers for 15 hits and 7 walks. I guess if you're going to lose, lose big.
What to Say to Sound Smart at the Water Cooler
Among all 25 guys on the Reds' active roster, only 2 share the same first name. Can you name them (without looking it up)?