August 28, 2012
| Team | 1 | 2 | 3 | 4 | 5 | 6 | 7 | 8 | 9 | R | H | E |
| --- | --- | --- | --- | --- | --- | --- | --- | --- | --- | --- | --- | --- |
| Reds | 0 | 0 | 1 | 1 | 0 | 1 | 0 | 0 | 0 | 3 | 6 | 0 |
| Diamondbacks | 0 | 1 | 0 | 1 | 0 | 0 | 0 | 0 | 0 | 2 | 5 | 1 |
W: Arroyo (11-7) L: Skaggs (1-1) S: Chapman (32)
The Reds beat the Diamondbacks in the series opener in Arizona last night, 3-2.
Before the game, @jluckhaupt was heard to tweet:
It's pretty cool how tonight's lineup is nearly in ascending OBP order: .292, .229, .331, .346, .335, .354, .335, .382. Dusty's trolling.

— Joel Luckhaupt (@jluckhaupt) August 27, 2012
Now that's usually backward, you see. Usually you want your guys who get on base the most to get the most number of at-bats, so you put them highest in the order. Just looking at that string of numbers, though, didn't quite do it for me. So that's why I made a little graph in Excel. It's nothing fancy like some of the stat-enthusiasts will show you, but I thought it captured the trend pretty well: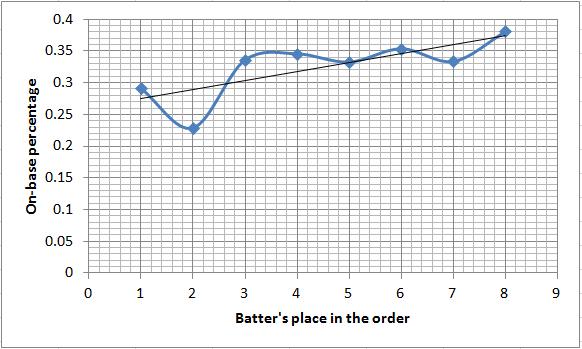 That's Drew Stubbs, Wilson Valdez, Brandon Phillips, Ryan Ludwick, Jay Bruce, Todd Frazier, Scott Rolen, and Ryan Hanigan. Of course, I used the OBP numbers from today rather than the ones from yesterday, but seeing as we're on game 130 of the season, the one game's worth of data probably doesn't matter much.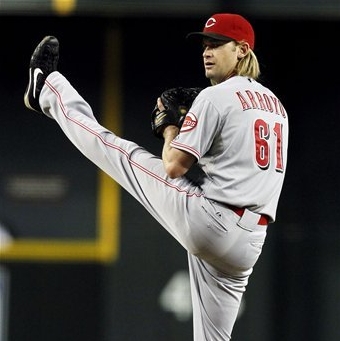 Of course, the guy with the lowest OBP of all isn't even on the chart. That's Bronson Arroyo, who gets on base a whopping 17% of the time. Even so, he was the offensive hero last night, giving the Reds the lead in the sixth that would carry them through the night.
But before he could be an offensive star, Arroyo began the game as just a starting pitcher. Arroyo worked 6.0 innings, allowing 2 runs (earned) on 5 hits. He also walked 1. After the sixth, Sean Marshall, Jonathan Broxton, and Aroldis Chapmam each worked a hitless frame. There's the lights-out bullpen we all know and love! They've been missing for a while.
Aside from Arroyo, the other RBI belongs to Brandon Phillips, who was 2-for-3 on the night. Valdez (he of the .229 OBP, you'll recall) got the most official at-bats and used them to drag down his numbers a little (to .228) with a 1-for-5 night. He did score a run, though, which just shows you never know how people are going to find a way to contribute on this team.
The win brings the Reds' record to 78-52. They lead the NLC by 6.0 games over the Cardinals. They continue the series tonight against the Diamondbacks. Johnny Cueto (RHP, 16-6, 2.47 ERA) goes against Wade Miley (LHP, 14-8, 2.80 ERA) for Arizona. First pitch at 9:40 pm EDT.