Last Game
The Reds won the first game in their series against the Diamondbacks last night by a score of 3-2. The hero of this game was Bronson Arroyo, who hit a solo home run in the sixth inning to give the Reds the lead that they would eventually win by.
Next Game
The Reds continue the series in Arizona tonight. Johnny Cueto (RHP, 16-6, 2.47 ERA) will take the mound for the Reds. He's a rock-star, but he won't be hitting any home runs, and he's coming off a real crappy outing against the Phillies on Thursday where he didn't even make it through six innings. He will be facing off against Wade Miley (LHP, 14-8, 2.80 ERA) who's been killing it this year. First pitch at 9:40 p.m.
Reds to host first interleague Opening Day
John Fay says that the tentative 2013 season schedule features the Cincinnati Reds hosting the first ever interleague Opening Day:
As it stands, the Reds will open on Monday, April 1, against the Los Angeles Angels at Great American Ball Park.
….
The Angels, with Albert Pujols and likely Rookie of the Year Mike Trout, are obviously a top draw.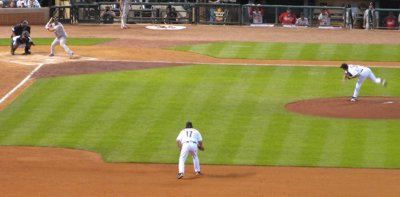 The need for an interleague Opening Day is due to the fact that the Houston Astros will become an American League team next year. That means that each of the AL and the NL will have an odd number of teams (15), so any given day when everyone is playing, there's going to have to be an interleague game.
How cool that the Reds should get to be the first. They've been the first at so many things throughout history. Now if only they'd be the first to bat Ryan Hanigan second.
What to Say to Sound Smart at the Water Cooler
Joey Votto was supposed to start his rehab stint with the class A Dayton Dragons last night, but didn't after all due to the rain. Can this guy ever catch a break?