October 18, 2006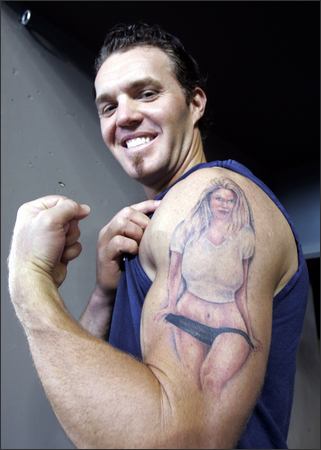 As if the strawberry Kool-Aid dye job that on that nasty little wad of fuzz on his face wasn't enough to scare any would-be one-night companion away, Scott Spiezio also sports this tattoo of his woman on his arm. According to bumpshack.com, the lady is his girlfriend or perhaps wife, Jennifer Pankratz.
Bumpshack suggests that the tat saves him the effort of buying girly magazines, but since its on his own arm, I'm not sure how he's going to much enjoy it without an elaborate mirror setup. Good thing he got it on his left arm.
If I were Ms. Pankratz, though, I wouldn't be too pleased to see that the tattoo rendition of myself featured The Ladies draggling down halfway to my knees like that. No, indeed, if I were Ms. Pankratz, I would have spent too much good money to keep them skyward-oriented to be happy about that at all.
Go Mets!